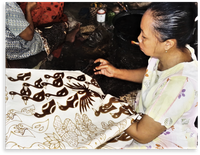 What are Indonesian Batiks?
Batiks are traditional cloths that originate from different parts of Indonesia. A craftperson creates intricate designs by tracing the cloth with wax, then uses wax-resistant dyes to add colours. Depending on the region, batik patterns may include traditional colours or vibrant ones featuring flower bouquets, phoenixes or cherry blossoms.



READ MORE
About Charlee and Bruce
We share a mutual admiration for the art of Indonesian textiles. Searching for batiks is a very special way to interact and forge relationships with people we would not normally meet on the main tourist circuit
Our mission is to find and share batik cloth, tablecloths and other batik products that we feel will be interesting and attractive to Canadians.




READ MORE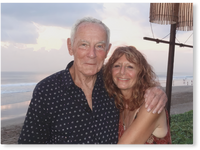 Our Journey Bringing Batiks to Canada
Customer Love
Amazing tablecloth, wonderful patterns. Very celebratory; winter and summer festive. Love it.


Paul Loiselle
We check your web site on a regular basis. First class site that match with all articles for sale.



Jacques/Marielle Bureau/Paiement
Your wares are unimaginably beautiful


Jane Olson
Location
FINEBATIKS
1436 Old Brooke Road
Maberly, ON K0H2B0
The land on which we are situated is the ancestral, unceded territory of the Anishinaabe Algonquin Nation.
email: finebatiks@gmail.com phone: 613-264-9977